Welcome new player =)
If you never played 4Story before, please read also this:
viewtopic.php?p=16198#p16198
Basic information / Important links
Free items
Free moonstones
How to get money
LevelUp Guide
PvP
Battle Mode
Character & Improvement
Basic information / Important links
Game Rules
Game Rules / Regolamento di Gioco
Support
Every kind of problem with your account, bugs or technical problems can be solved with a support ticket. You can create a new one on our
homepage
. Login and click on "
Contact Us / Send a Ticket
"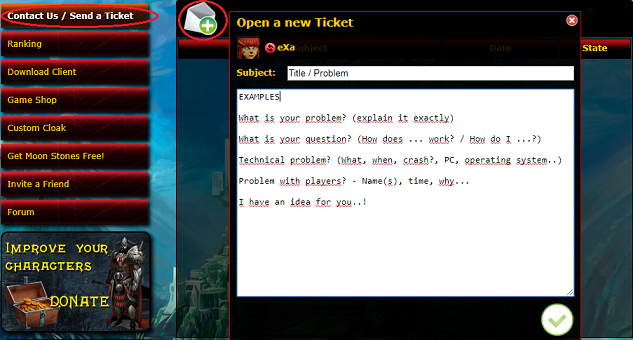 If you have a Windows10 problem, read this topic
Win10 Fix

Download / Patch error
Error: "Failed to download file"
Security
Please read
this topic
to protect yourself and your account.
Invite a friend
If you have another friend to join P4Story, use the "
Invite a friend
" system to win prizes for you and your friend.
Saturdays!
Weekly event on saturday - Enchant
(Jewels)
or
Refinement
(Armour, Weapons)
.
It switches every week, the time is 14:00 to 22:00 (2pm - 10pm). Time in GMT+1.
P4Story on Facebook
Offical page
Offical group
Coupons
P4Story uses a coupon system for free items, events and moonstones.
If you want the name of your country above your char, read
this topic
.
Read below the post "Free items" to learn how it works.