What is the "Guild Reward" and how does it work?
Sense? - Rewards for the weekly activity of you and your guild!
Press
G
and open the new tab
Reward
.
Here you can see the current points of the guild & all guild members.
How to get points?
- make PvP in Territory & Castle War
- you need
at least 500points and 4active days to unlock
your reward
The "Redeem" -button can be pressed every 5 days!
A guild needs
more players to unlock the reward
for the members: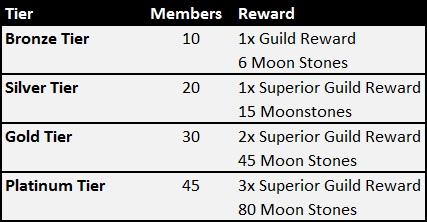 What is inside of "

Guild Reward

"?
10x 14000HP Potion, 10x 14000MP Potion, 300Medals, 1000BonusPoints, 5000PetExp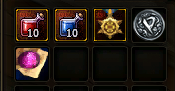 What is inside of "

Superior Guild Reward

"?
10x 20000HP Potion, 10x 20000MP Potion, 2x RaffleTokenBox, 300Medals, 1x 10000PetExp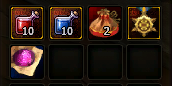 The role of castles
- the maximum guild level is now 14 (max. 49 mercenaries)
- all players will be Lv140 while CastleWar
- a conquered castle mutiple the guild points!
Hesed x1
|
Ardir x2
|
Gebra x2
|
Tycon x1
|
Undred x3