BoT - Battle of Titans
How many players?
There will be 2 teams with up to 10 players (
10
vs
10
).
The limit is
5 players
in
one group
.
Times & Duration
Times = See here
https://en.p4story.com/
Duration = 2min buff time -> 30min PvP
Skills & EQ
All items are level 68, with boost up to 72.
If an item has the level
44
with
5
gems it will be improved to Lv
45
(only in the battle mode).
All items are minimal
+22
.
All skills have the maximum level.
Respawn time
If you die, you have to wait 25 seconds.
If your team has 1 point the time is increased.
Battle Points
(to buy items from the NPC)
Kill a monster = 20 BP
Kill a fire/ice -boss = 200 BP
Kill a player = 20 BP, the group members get the same points
Titan guardians = no points!
Ranking
(battlemode)
Kill an enemy player = 5 SP
A group member kills a player = 2 SP (for all members)
Other basics
- both teams have a NPC to get buffs
- the spawn of every team is a peace zone, you can't kill players there (like capitals)
- each base has a NPC to buy items with battle points (like in BoW/WoG)
Minimap
The minimap in the right corner of the interface shows the positions + movement of all 3 Titans.
You can move this minimap across the screen with your mouse!
How to win

?
There will be 3 Titans with their guardians on the map.

Attack the 3 Titans and push them to the enemy base.
Moving Titans are marked on the minimap in realtime.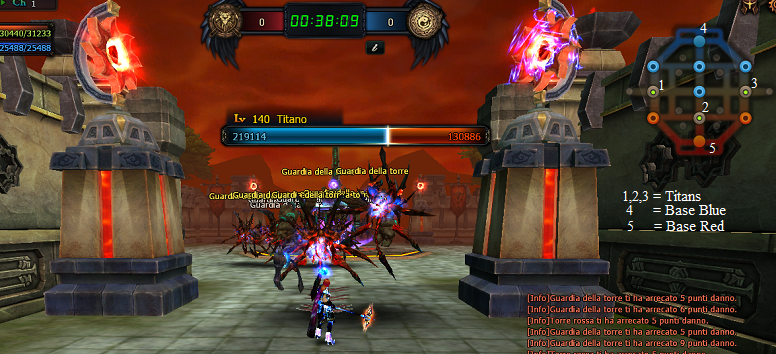 If you push a Titan to the enemy base and kill him, then your team get's +1 point.
Here you can see the red team with a dead Titan in the blue base.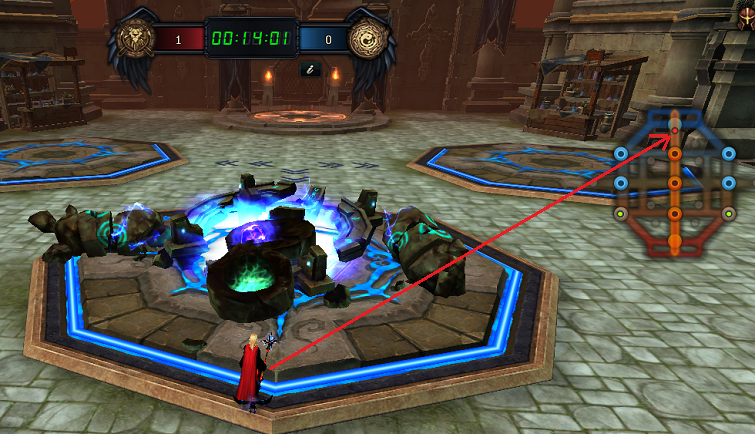 The match ends when all 3 Titans are dead.
Rewards:
Mysterious Treasure Chest - Battle of Titans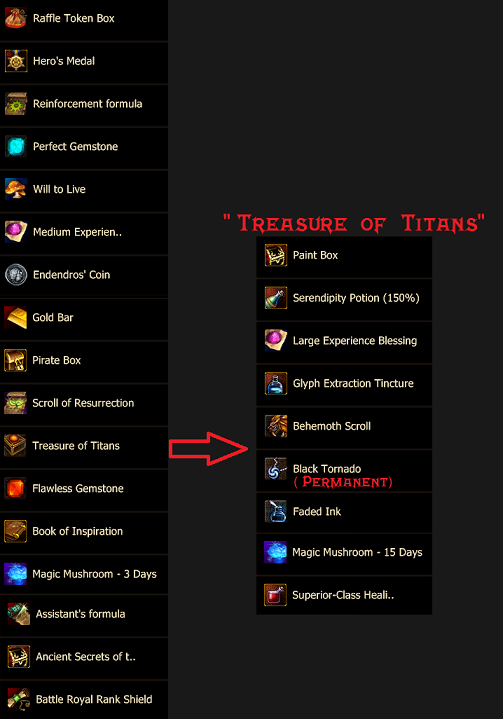 The player with rank #1 get's the title Titan Slayer for 48h.